G-Force III Electronic Boost controller GFB 3005
A lean mixture at high boost can destroy an engine in seconds, and a stand-alone AFR gauge is next to useless when accelerating hard as your concentration is likely to be (and should be!) on the road in front of you. The G-Force III safeguards your engine against a lean mixture by lowering boost to the minimum setting, and visibly warning you by flashing the display lighting.
Whether your car is a daily driver or an all-out track weapon, the G-Force III has the features to tailor boost to suit your needs. Set up to 6 boost presets and select on the fly, use the scramble feature for overtaking, launching, towing, or protecting the engine, and you can even customize the lighting colour to suit your interior! No other EBC on the market offers the features, control, ease of use, and value for money like the G-Force III!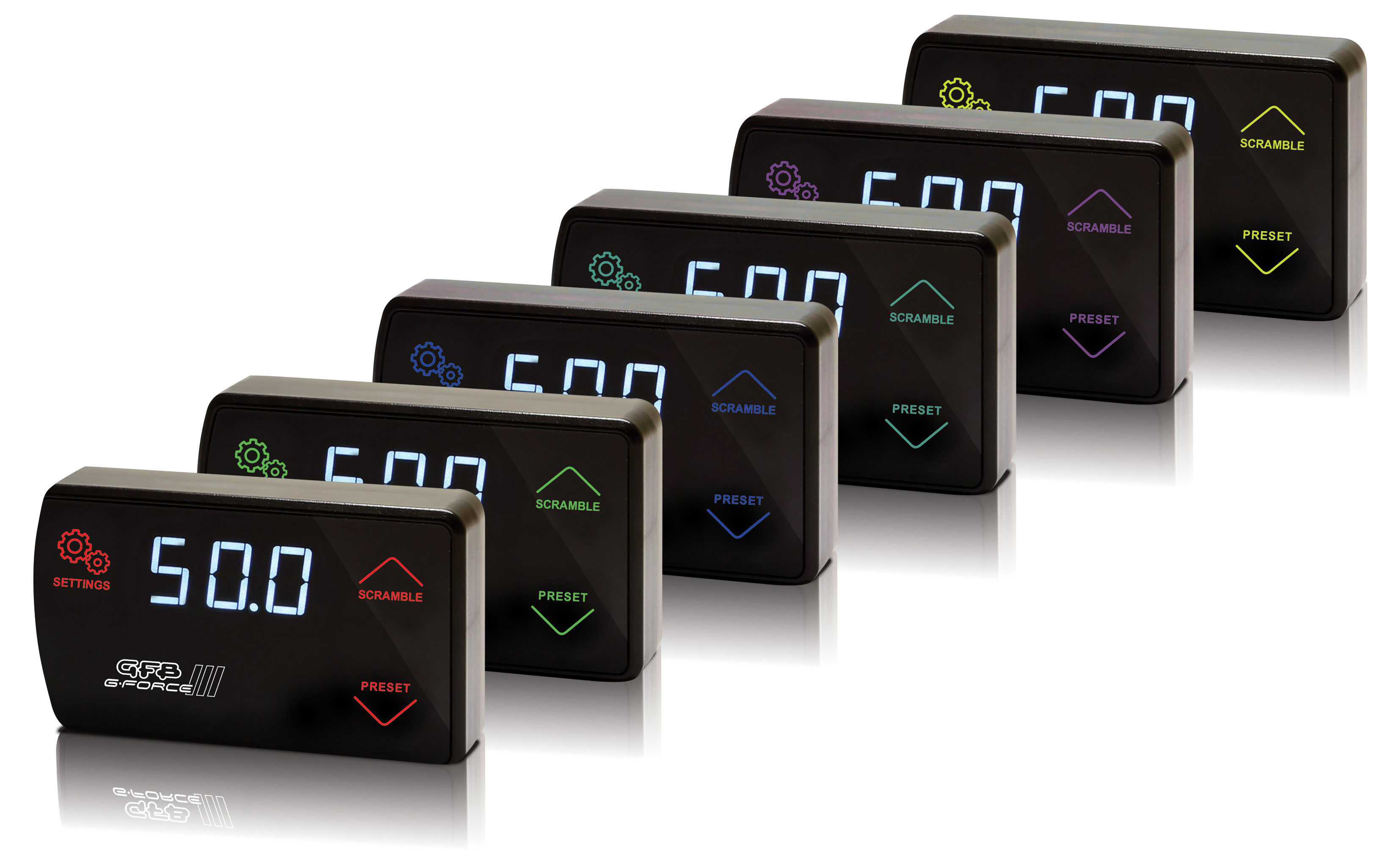 FOR BOOST PRESSURES UP TO 50PSI (3.45BAR, 345KPA)
ADJUST PEAK BOOST, RISE RATE, AND CLOSED-LOOP CORRECTION
DISPLAY BOOST PRESSURE IN PSI, BAR, OR KPA
6 BOOST PRESETS, INDIVIDUALLY PROGRAMMABLE
UNIQUE "SCRAMBLE" FEATURE WITH REMOTE SWITCHING
PEAK BOOST RECALL
AIR/FUEL RATIO DISPLAY IN AFR OR LAMBDA (WHEN CONNECTED TO A WIDEBAND O2 CONTROLLER)
SEPARATELY ADJUSTABLE OVERBOOST AND LEAN MIXTURE WARNING/BOOST CUT
TOUCH BUTTONS WITH USER SELECTABLE ILLUMINATION COLOURS
AUXILIARY INPUT TO SWITCH BOOST PRESETS OR ACTIVATE SCRAMBLE
½ DIN SIZE CASING, FITS STANDARD STEREO SLOT
SUPPLIED WITH MAC 3-PORT SOLENOID